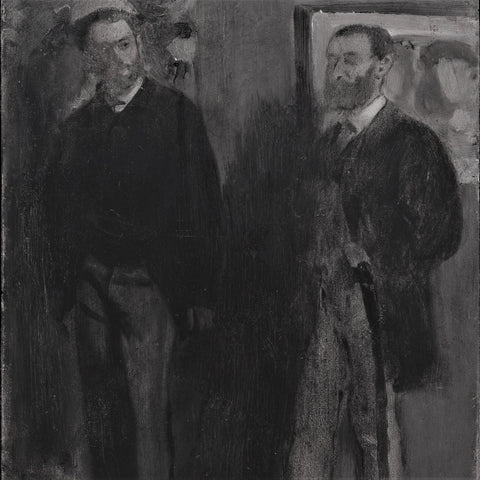 If you've read my other journal posts, you know that professional menswear has been an important source of inspiration for Lily Kastur. I've written before about the memories I have of it from my father; the studies I've made of it in the men around me at work and on the street; and my many years of buying it for my husband. It only makes sense that at some point I'd write a whole post about it.
Still, this fascination with menswear requires some explanation. At Lily Kastur, when we say in our tagline simple + tailored + beautiful + functional we are taking that from menswear. Because it is what we already see in menswear and want to bring to womenswear. Menswear is easy. Womenswear is not so easy. A thoughtful look at their differences gave us the insight to design something better. These are some of the lessons we've learned.
SIMPLE. Professional menswear consists of a single, uniform style. In general, that means a button-down shirt, pants, a blazer and a tie. It can be formal or casual, but it's the same standard outfit and men have worn some version of it for more than a century. That may seem boring, but men don't seem to mind, and it makes it so much easier to get dressed. Less time is required to buy clothing, follow trends, put together an outfit, and still look polished. Consequently, we don't pay that much attention to what men wear. And while the media and public still often comment on what women wear, when it comes to men they comment more on what they say or do. It's a pretty good trade-off.
TAILORED. Menswear is designed to have a tailored fit, so that it looks smart and well-cut. Fit is like a science in that it is something that can been tested over and over again to improve and refine a result. When men put on a button-down shirt, they have a good idea of what to expect in terms of fit. And because standardized sizing for men in the U.S. dates back to the Civil War (when uniforms had to be created in bulk for soldiers), the timeline for evolving and perfecting fit has been long. For the most precise fit, men also have many bespoke options.
Today poor fit is a common frustration expressed by women when it comes to buying clothes. When clothing styles change so often, the standardization and predictability of fit remains elusive. So one way to improve the fit experience is to keep iterating on the same clothing style, like a button-down shirt. If something fits well and fit truly matters to women, then sustaining a repeat audience for that uniform style should be achievable.
BEAUTIFUL. There is much that is beautiful about professional menswear. The uniform itself – button-down shirt, pants, blazer (optional), tie (optional) – is a well-designed outfit. It conveys professionalism and almost universally allows any man who dons it to exude respectability or something more. With the tie and blazer especially, men become more distinguished and easily assumed to be persons of authority.
But fabric and color are where menswear really shines. Finding a button-down shirt made of high-quality fabric (usually cotton or a cotton blend) is easy, especially when you compare it to finding the same for women. And if you are particular in your preferences, you can even know the thread count and opacity of your shirt's fabric.
In some of the oldest fabric mills in Italy, a major supplier of men's shirting fabric, they maintain historical catalogs of the fabrics they've produced, going back decades. It is a textile heaven, with beautiful arrays of fabrics in different colors, textures and designs. For men, it is in the choice of fabric that they can express both personal style and convey purpose.
FUNCTIONAL. By far the easiest thing about menswear is its functionality. The button-down shirt itself is such a versatile style that it can go from the boardroom to the bar, and from kitchen work to garage work. It can be lightweight for the beach, or heavy flannel for shoveling snow. The longevity of the uniform – shirt, pants, blazer, tie – shows how relevant and suitable it continues to be even as times change and society evolves.
My husband has a closet full of clothes. But every now and then, I stop by the men's department in a clothing store just to look at the button-down shirts on display. If I were to buy him something, it would be a simple process. I already know the type of shirt and I know his size. So all I have to do is choose the fabric. And because men's button-down shirts are available in a wide variety of understated colors and prints, it is again easy to find something that is new and different but still seamlessly fits into his wardrobe. Buying a shirt is more fun when all you have to do is consider the aesthetic of the fabric, and not worry about whether it fits or is the right style.
A final lesson about menswear that is most important is that it is clothing first, and fashion second. In this era of sustainability where fashion's environmental impact needs attention, menswear offers this simple, analogue lesson about how to dress more thoughtfully.
Shilpa Shah
Founder | LILY KASTUR
Painting: Two Men by Edgar Degas, circa 1865-1869 (Met Open Access)